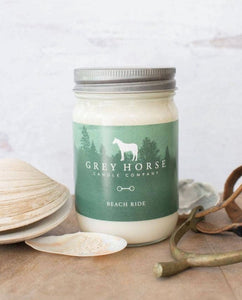 It is every Equestrian's dream, just you and your horse galloping full speed down the beach. The wind in his mane, small drops of cool salt water splashing your face as his hooves hit the sand, crisp ocean air, the sound of waves crashing against the shore, a beautiful sunset, and the feeling of complete freedom and utter bliss. Whether you are lucky enough to have experienced the thrill of a beach ride, or you're still dreaming of your day in the surf, this fragrance is for you. Keep on dreaming, horse girl!

This scent is clean, soothing yet invigorating. Our Beach Ride fragrance is a fresh and airy bouquet of orange blossom notes with a subtle hint of musk. This candle is infused with natural essential oils, including orange and lemon.
Made from Natural soy wax and premium grade fragrance oils. Each candle is hand-poured in small batches and contains a 12 ounce canning jar that may be reused for other purposes.